Benefit from COHOR's expertise and discover our flight schedule data collection services and our advanced airport capacity management tools.
COHOR is currently managing schedule data for more than 15 airports served by more than 160 airlines in strict respect of confidentiality (EU and WASB best practices)
Benefit from our expertise of slot allocation and advanced IT systems and explore our innovative and powerful solutions for all stakeholders
Data Collection is a standard defined by IATA in the Worldwide Airport Slot Guidelines.
COHOR will collect schedule intentions from airlines intending to operate at your airport and feed them to the airport systems.
With more than 20 years of experience in providing schedule data for airports, we observe an excellent adherence (+95%) from airlines to the data collection program.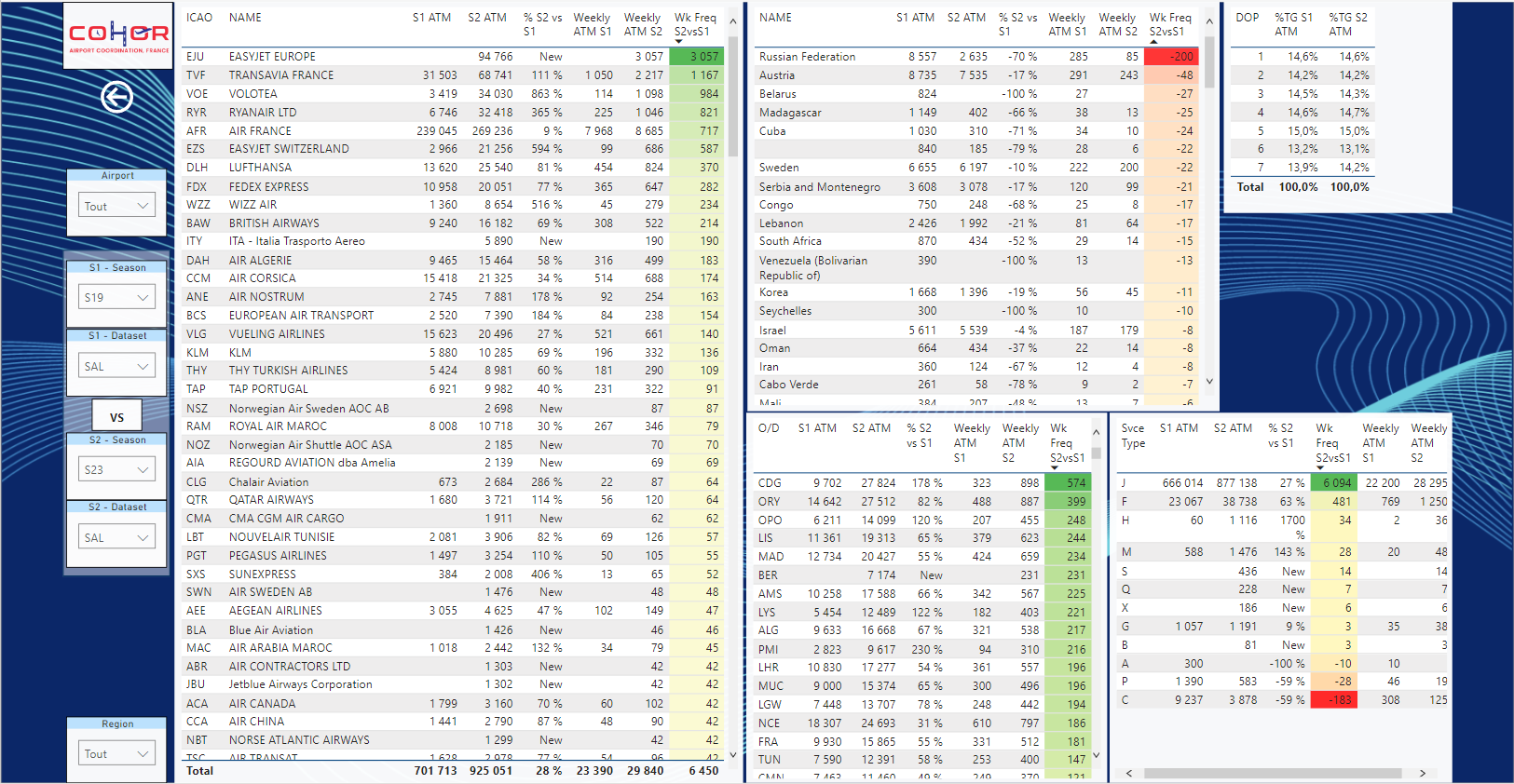 COHOR offers annual subscriptions to access a dedicated data reporting environment.
Our Power Bi reports will give meaning to the data and provide valuable insights based on dynamic datasets.
we offer our expertise to develop bespoke reports to meet specific needs.
BENEFITS
Digitize your processes
Centralize and automate program data flows
Anticipate demand up to five months in advance
Monitor demand for infrastructure
Accurately plan staff and ressources
Live update of modifications
Analyze market trends
Data for business cases and forecasting
Coordination and Consulting services
With more than 20 years of experience in airport coordination, we offer coordination services for all airports that requires coordination during specific periods (Sport events, Peak periods, Reduced airport capacity, …) or wanting to engage in coordination to optimize the use of existing infrastructures.
Our coordination tool allows a precise definition of the most complex airport resources
Our coordination tool allows a complex definition of the following resources: Saying that we can do more than that.
Runway
Aircraft Stands
Terminal Passenger Flows
Check-in Counters
Boarding Gates
Security Passenger Flow
Immigration
…
Contact us to get more information and discover how we can provide valuable Data to your company
Les informations que vous nous communiquez sont conservées de façon strictement confidentielles. Néanmoins, une copie de votre message pourra être stocké dans notre base de donnée en tant qu'archive.